Coffees


Stoke Roasted Coffee strives to offer something for everyone. We buy and roast our beans to create a selection of offerings which will appeal to a wide range of tastes and styles, from the bright and light, to the dank deep and dark, and everything in between. Please take a look at these descriptions to make sure you get what you like.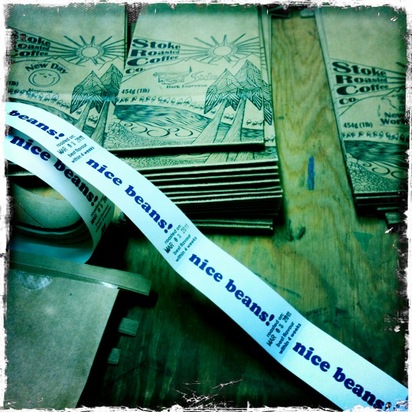 Light to Medium Roasts (City to Full City)
Tend to have smooth body, bright acidity, maximum sweetness, and they showcase the subtleties of the flavours in each variety of bean. African coffees often exhibit floral, citrus and / or fruit flavours; Coffees from the Americas tend to have tastes of chocolate, nuts and / or grains; South Pacific beans can be earthy, herbal and / or spicy.
Medium Plus Roasts (Full City+ to Viennese)
Tend to be full bodied and low acid, with less sweetness due to the caramelization of sugars. Floral and fruit tones tend to be muted while nut and grain flavours become more toasted.
Dark Roasts (includes Med & Dark Blends)

Tend to have round body, low sweetness, and the acid balance tends towards some bitterness, like dark chocolate. These offerings have the strongest flavours: predominantly roasty pungency, with accents of the beans' brightness shining through.
---